Android 11 brings a major change to Locus directories
Google's Android operating system has always been an attraction for independent developers. It attracted above all with the range of freedoms it had offered since its first launch, by the speed of approving applications before they were published, by the minimum of restrictions, by its generosity. That's why we decided for Android right at the beginning of Locus development.
Over time, however, Google's Android has been shown that too much freedom can bring problems – the instability of the system, the security risks, the increased energy consumption, and so on. That's why Google has been constantly "tightening the screws", and with an increasing degree of rigidity, it is finding itself closer and closer to the competing iOS.
On the first of November 2021, there was another such iOS-like step in Android 11+, a very fundamental one for our apps:
Locus GIS no longer has full access to the phone storage.
It can only use its own private folder in the Android/data directory. This solution promises better app responsiveness and stability. But what does it mean for such a complex app as Locus GIS?
All app data is deleted upon uninstall – the majority of devices show a warning prompt with the option to retain the app data in the storage. But especially Chinese devices erase the data without an option of restoring.
Limited options for custom sub-directories – the app can read/write data only in its private directories (both in internal and external storage). Only backup files can be stored elsewhere.
Disabled linking to maps from external folders – all raster maps can be stored only in /LocusGIS/Maps/ directory, all vector maps in /LocusGIS/mapsVector/ directory.
As a precaution we recommend:
Set up an automatic backup to Dropbox or Google Drive.
regular backups of your downloaded maps especially from the commercial publishers. LoMaps can be re-downloaded for free at any time from Locus Store.
The latest update offers a smooth data transfer
As Google forces the developers to adapt to their latest measures, we have prepared a new Locus GIS version tackling this situation as smoothly as possible.
update on Locus GIS 1.15.0
during the app initialization, you are notified of the app directory /LocusGIS/ stored in the unsupported part of the internal storage: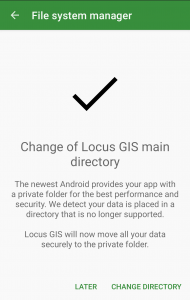 after accepting it, you can select the private folder into which the data will be transferred – either in the internal storage or on the external SD card (can be a lot slower)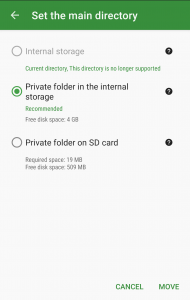 LocusGIS smoothly transfers all the original data into its private folder
after the app restarts, all is ready and working as before
If you need more information about a single Locus GIS update and necessary data transfer, please visit the Locus GIS user guide